Delonghi Espresso Machine Repair
Your premier source for Delonghi Espresso Machine repair in Seattle.
Don't pitch that machine just yet!  We've got years of experience with Delonghi superautomatic espresso machines as a Delonghi Authorized Service Center.  They are unique and solid machines, and this is the pattern we've seen over and over:
From new, the machine works great for several years – it's quite rare to have any issues at all. Possibly it's had one small warranty repair or something, but mostly people love their Delonghi machines and the coffee they make.
Most other brands need regular (and frankly costly when added up) tune ups and maintenance in a repair shop, but Delonghi machines just don't need to be brought in for service on a regular schedule. Instead we recommend regular descaling at home, rinsing of the brew unit, and occasional wiping down of the machine.
Sometime between 4 and 8 years, you may start to notice issues like leaking, weaker coffee, inconsistent steam pressure, louder than usual sounds, grounds scattered around the inside. Rarely is any of this catastrophic.
That's when you should let us take a look at your machine to see what it needs. With these machines we expect that you'll only have to put one major service into the machine, and it will have years of life left in it  Other service centers or other brands will have you on a yearly tune up schedule, but it just isn't necessary.
Most often it's a matter of new hose seals, relubrication, tightening fittings, replacing steam valves and boilers, infuser and grinder servicing, physically removing a scale clog or two from the lines – all of this best accomplished in one shot during a complete overhaul.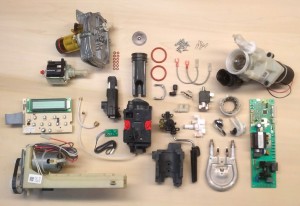 Want more details? Our full overhaul includes:
Professional boiler descaling and physical cleaning of any scale from fittings and solenoid valves
Grinder disassembly, cleaning of old coffee oils and grounds, inspection and reassembly
Infuser disassembly, cleaning of old oils, main seals replacement, piston lubrication and reassembly
Infuser carrier removal and cleaning, bolts reinstalled with threadlocker
New hose seals throughout the entire machine – up to 14 total depending on the model
Resealing or replacement of any leaking hose fittings
Replacement of steam boiler wiring connectors which can loosen, arc and fail over time
Replacement of steam valve assembly or milk pitcher connector – depends on model
Replacement of coffee boiler assembly – as needed
Cleaning of main door interior, coffee spout and all external parts – drip tray, dump box, body panels, etc.
Thorough testing of all machine functions after overhaul is complete